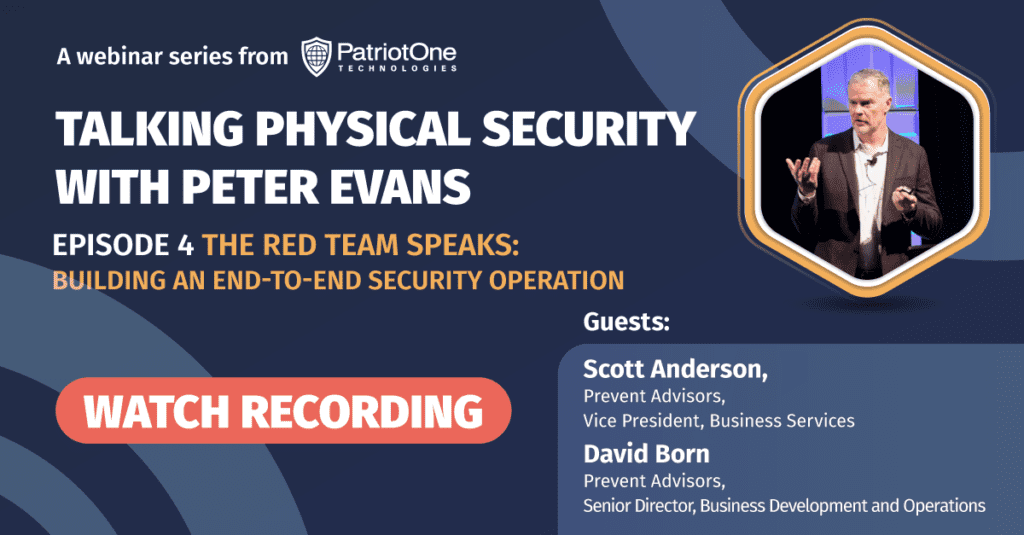 On the fourth episode of the Talking Physical Security webinar series, Peter Evans spoke with Scott Anderson and David Born of Prevent Advisors, an Oakview Group company and security and risk management advisory and implementation service. They talked about challenges that venues come across when implementing new security technology, and advice for how to do it successfully. Scott is vice president of businesses services and David is senior director of business development and operations – here, we recap their conversation on challenges and advice for venues.
Three Challenges in Security Implementation
While many security directors know about the benefits of next-generation patron screening technology, it can still be challenging for them to bring it into their venues – at least right away. They realize that walk-through metal detectors are outdated, but it's not as simple as just ripping and replacing the already established tools. Scott and David discussed some challenges that venue directors and operators face when thinking about implementing new solutions.
Introduction of new technology
Technology is evolving quickly, and keeping up with the latest innovations is challenging for stadiums and venues, given their size and the required policies and procedures. Each venue will have a unique set of challenges when implementing new security screening technology, such as staffing shortages or location, which requires a thoughtful plan of action. Additionally, patron screening solutions aren't the only innovative technology that venues are evaluating – mobile food ordering and other touchless experiences are becoming popular, so venues are often juggling multiple new innovations at once.
Budgeting cycles
Venues, like all large organizations, have very strict budgets that are often set at the beginning of the year. That's why implementing new security technology in the middle of the year is challenging – venues don't have the capital to spend on new security technology months in. Doing so requires a pre-planning and budgeting process, with required approvals coming from the top. Additionally, for venues who host sports teams, making changes in the middle of a season is very unlikely, as it requires even more procedures and preparation.
Unclear initial ROI
Sometimes it's hard for venue directors to take a fresh look at new patron screening technology and justify spending capital on it, when they have existing infrastructure in place (i.e., walk-through metal detectors). Sometimes it's difficult for them to envision that initial ROI, since it's revealed later on. Patrons getting in the venue faster means they have more time to spend on concessions and have a better experience, which can drive incremental revenue. This is something that can be difficult to explain to directors until they see it down the road, after analyzing crowd patterns and purchases. Additionally, the point of screening technology is to prevent violent incidents, which can be a very hard thing to track – after all, one rarely knows an incident is going to happen until it actually does.
Advice For Stadiums
Once a stadium or venue agrees to implement new security technology, it can sometimes be a challenging road ahead. Scott and David also offered advice for those looking to make the switch.
Outline clear goals
When buying any kind of venue or stadium technology, there should be clear goals of what you want to achieve. Without that, it will be difficult to measure ROI and implement a clear strategy, because you won't be marching toward something. Having a plan in place keeps everyone on the same page.
Test it rigorously
Understanding risk is essential for any piece of new technology, meaning knowing how it operates plays into the risk appetite. Before purchasing, security directors should test the tools rigorously – in their own environment and at places where it is already installed. This means touching it, testing its durability and taking environmental factors into account based on where their organization is located. Will this be placed in very cold temperatures or need to be moved frequently? These are things you will want answers to when testing out the equipment.
Develop ongoing training programs
Training staff is essential, not just on the initial use of the technology, but also down the road on a regular basis. Consider setting up a full training program, complete with written procedures and demonstrations of how to effectively use the technology. Also, having the proper oversight will ensure quality security checks, and that the tools are being used as intended. This preparedness also goes for patrons – letting them know ahead of time what to expect and why this new technology will improve their lives. After all, people know how to handle walk-through metal detectors, but they may be a little unsure about next-generation patron screening tools at first.
Whether bringing in new security technology or a mobile ordering app, there's a long process that venues must go through before making the change. You can view Peter, Scott and David's full discussion here.
Interested in talking with Patriot One about how we can transform your security screening process? Contact us today!