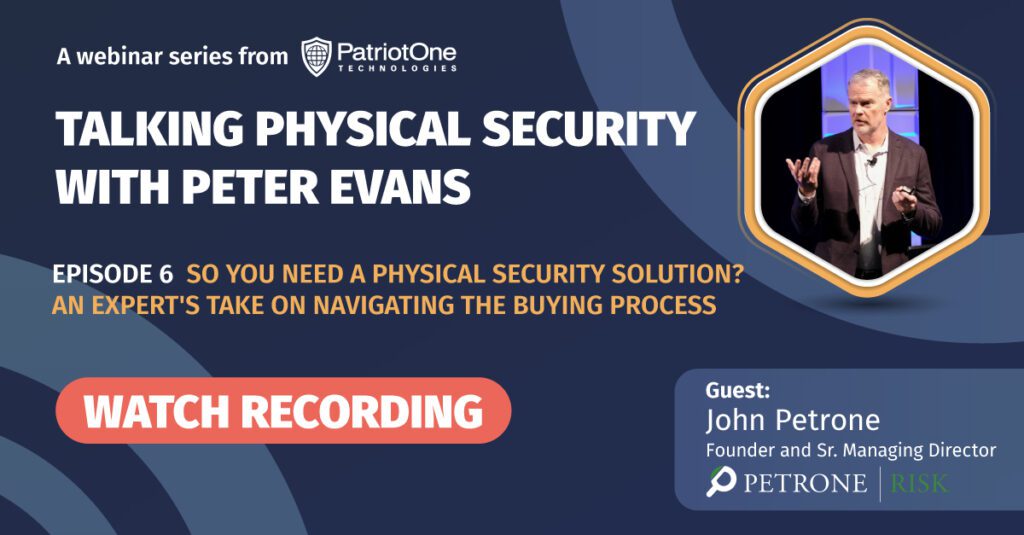 On our most recent episode of Talking Physical Security with Peter Evans, John Petrone, founder and senior managing director of Petrone Advisors, a security and emergency preparedness firm, discusses what venues looking to implement security technology can expect during the buying process and how bringing on an independent safety consultant can be beneficial to venue directors' security strategy.
Here is a recap of three things for venue directors to keep in mind when thinking about purchasing physical security technology.
The buying process isn't straightforward
Some of the venues that are considering purchasing modern security technology, like Patriot One's SmartGateway, have never used any kind of physical security solution before, so they will need to be educated on the people and processes to ensure success. Among other things, fully trained security personnel must be in place to operate the technology, since it's meant to augment people, not replace them. Vendors accurately conveying the positives and negatives of the solutions will help security guards control the flow of patrons into a venue, while frequently testing the technology will keep everyone up to date on changes in process – also because, like every new technology, physical security solutions evolve over time.
Verify the company's Safety Act acknowledgements
The Department of Homeland Security's (DHS) Safety Act, according to the government website, "encourages the development and deployment of effective anti-terrorism products and services by providing liability protections." It includes an "acknowledgment" section that lists vendors that meet various security needs. While this is a good endorsement for security vendors, venues need to be proactive in verifying the vendor is certified in what exactly the venue needs. Just because a vendor might be Safety Act-acknowledged, it might only be for specific security functions as opposed to full coverage for everything.
It's also important to note that the Safety Act only acknowledges vendors based on their own claims (much like the operational exercise that the NCS4 conducted on Patriot One's Gateway). Peter noted that this is why Patriot One is seeking to be acknowledged under the Safety Act for specific needs that professional sports teams and venues require, since they have some of the strictest requirements to ensure safety for patrons.
Consider using a safety consultant
Bringing on a safety consultant can be beneficial for several reasons. First, according to John, the consultant will become a part of the organizational family and be integrated as such. It will ease the burden on people who have other jobs, like safety officers and venue directors. A good safety consultant will be completely focused on the task at hand, rather than being pulled off of the job frequently with other concerns. Without one, it would be almost impossible to run everything effectively and safely. When a venue brings in a consultant is also crucial. Obviously, this would be most beneficial at the beginning of implementing a security strategy, but anytime would be better than nothing.
Petrone Advisors uses tabletop exercises, among other activities, annually or biannually, to assess where an organization is in its security strategy, and discuss ways to enhance it to reach specific goals. It does this by bringing in several departments to work through these exercises, with both senior and junior employees. This lets everyone's voices be heard and they then will be on board during a real emergency.
To view this full episode of Talking Physical Security, please click here. To get in contact with our team to discuss how Patriot One can protect your venue or facility, contact us.